Late last summer, School of Drama Registrar Ariel Yan and her wife, Dr. Maura Bozeman ('12 YSE), were running out of outdoor activities to get away from their home office spaces. Mack, a friend of Ariel's, told them about pickleball, a sport Mack played in camp as a child and that is also popular in retirement communities. Ariel and Maura tried it, loved it, and began proselytizing.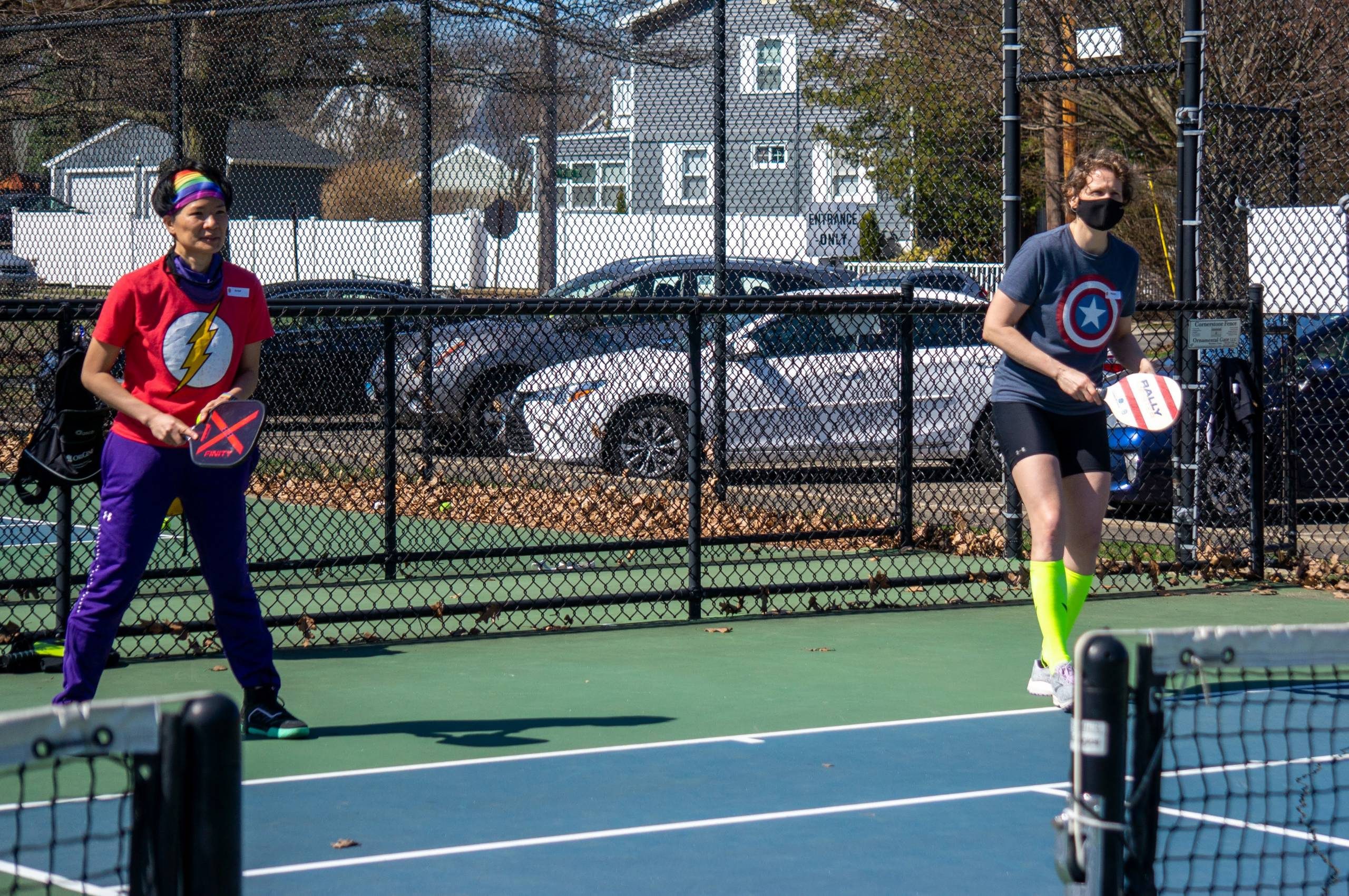 During meetings with Assistant Dean Kelvin Dinkins, Jr., at the beginning of the school year, Ariel found she couldn't stop talking about pickleball. Intrigued, Kelvin and his wife joined Ariel and Maura and then purchased their own paddles. At meetings with the Chairs, Kelvin shared his new obsession, which piqued the interest of Catherine Sheehy ('92, D.F.A. '99, Chair of Dramaturgy & Dramatic Criticism) and her wife. They, too, got their own paddles and spread the word.
Pickleball is a paddleball sport like tennis or badminton. The paddles are smaller than tennis rackets, and the ball is a small wiffleball about the size of a softball. There are rules about bounces, bounds, baselines, and points, but this group plays for fun. "Our motto is keep it in play," says Ariel, who jokes that she's read the rules, but only Joan Channick ('89, Chair of Theater Management), who joined the "league" this spring, knows them. Like Catherine, who is reported to be the group's "power-hitter," Joan had played competitive paddleball sports in school, but she finds the non-competitive atmosphere of Ariel's pickleball gatherings joyful and much-needed exercise.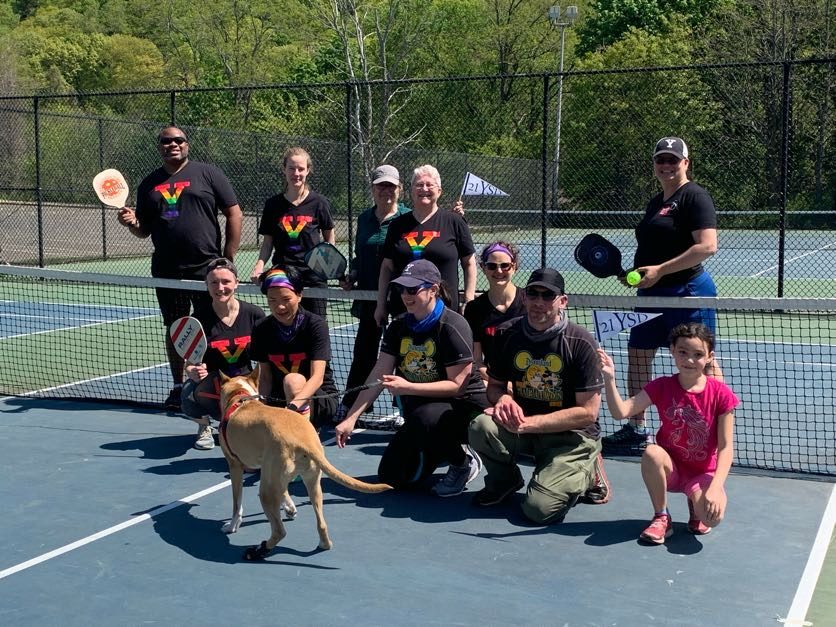 Each weekend, Ariel and Maura provide paddles, balls, and folding chairs at the junior tennis courts at Wilbur Cross High School in New Haven. The group has grown to include Associate Dean Chantal Rodriguez with the team's mascot, Bailey, and has had drop-in visits from Dean James Bundy ('95), Vicki Nolan (Professor Emerita), Linda-Cristal Young (Staff), Anna Glover (Faculty), and many more with partners and family. Now, about a dozen people turn out every Saturday morning to volley pickleballs and laughs.
Ariel is incredibly proud of how this has turned out, noting that it started as a way to stay active and maintain a healthy lifestyle during a hard year and has been adopted by so many who feel connected to each other through this activity. Earlier this month, she, Chantal, and Eric M. Glover (Faculty) were awarded this year's George Pierce Baker Awards, which are given by the Yale School of Drama community in recognition of an individual member's outstanding work and dedication. "Ariel supports a vital sense of community at the School of Drama," said one of her nominators. It's no wonder that she was able to build such a dedicated pickleball league.