About Us
Hair's Kay - A Community and Culture Space
Like Black barber shops, Black beauty salons are places of socialization. Hair's Kay, established in 1995 by Karaine Holness, is no different. You may run into someone you haven't seen in weeks. Some are actually there to get their hair done; others, just stopping through to say "hello" and to catch up. You may talk politics, or the ugly wedding gown the young bride is choosing, or about whatever's playing on the wide screen T.V. Someone's food order is delivered. Kay likes company, as she puts it.
And that company includes New Haven professionals, third-shifters, students new to town, and former Mayor Toni Harp. She cuts, colors, straightens (using either a heated utensil or a chemical to smooth out the natural root of the curl in Black hair), and styles hair in a communal atmosphere. And how do her clients view her? She waits, thoughtfully answering the question: "Like a good girlfriend… yes, like a good girlfriend."
Kay was 19 when she left Jamaica. "I followed a man, gurl." With family already living in town, her new husband Robert saw his future in New Haven. And Kay began to make hers too. Having come into hairdressing as a teenager, she opened her first shop next door to where her in-laws still own one of the area's best-known Jamaican restaurants, Tropical Delights. Since 2017, Hair's Kay has been located in the sunlit first floor of 320 Ashmun Street, its colorful and lively atmosphere a reflection of Kay herself as well as her home isle.
In fact, everything Jamaican in the Elm City passes through Kay. The annual Caribbean Day at City Hall? Kay organized it and shows up every year in traditional Jamaican wear. Responding to the need for community amongst Jamaican immigrants in New Haven, Kay co-founded the Jamaican American Connection, which holds an annual dinner with Jamaican notables as keynote speakers, and awards scholarships to college-bound students. And the New Haven Caribbean Heritage Festival, which draws large summer crowds, "came about because people sometime have a tendency to think everyone from the Caribbean is from Jamaica," she laughs. "When no, there's a whole bunch of us. The festival is about showing all those different cultures in one space."
She continued, "We teach, we learn, we share. These are all ways to preserve the culture. But it also shows that the Caribbean story is intertwined with the American story, especially the African-American story. You have the first Black woman, Shirley Chisolm, run for President, whose family was from Barbados and Guyana, right? And now we have the first Black Vice-President, whose father happens to come from Jamaica, standing on the shoulders of Shirley Chisolm."
In 1999, Kay's mother gave her a book, Sacred Pampering Principles for African American Women by Debrena Jackson-Gandy. Kay started passing along tidbits from the book in conversations with her clients, encouraging them to see themselves positively. She also discovered that most of her clients didn't travel: "Maybe they'd head south for a few days, but not out of the country. Work, family, and other obligations just didn't give them time." A year later, Kay and several clients traveled together to Negril for the first time.
The pandemic has temporarily interrupted what is now known as Sistah's Jammin', which would have marked its 20th anniversary trip last year. Kay rolls her eyes in the air as she tries to describe what has been taken away. "It's messed up our social lives. Hair's Kay has always been…ah, can't call it a juke joint," she laughs. "It is a place where intense conversation takes place. You could come to talk about anything, learn, discuss and share. I can only have two customers at a time now. You know we would have been celebrating on Inauguration Day! Food, music, partying, pearls… just having a good ol' time. We don't have time to fellowship like we used to. It's a new process."
What's next for Kay after almost 30 years of standing over clients? "Girl, who knows. None of my children (she has three) have made me a Grandma, a Nana. So, who knows? But I can tell you this–the world is my oyster. Yes… the world is my oyster."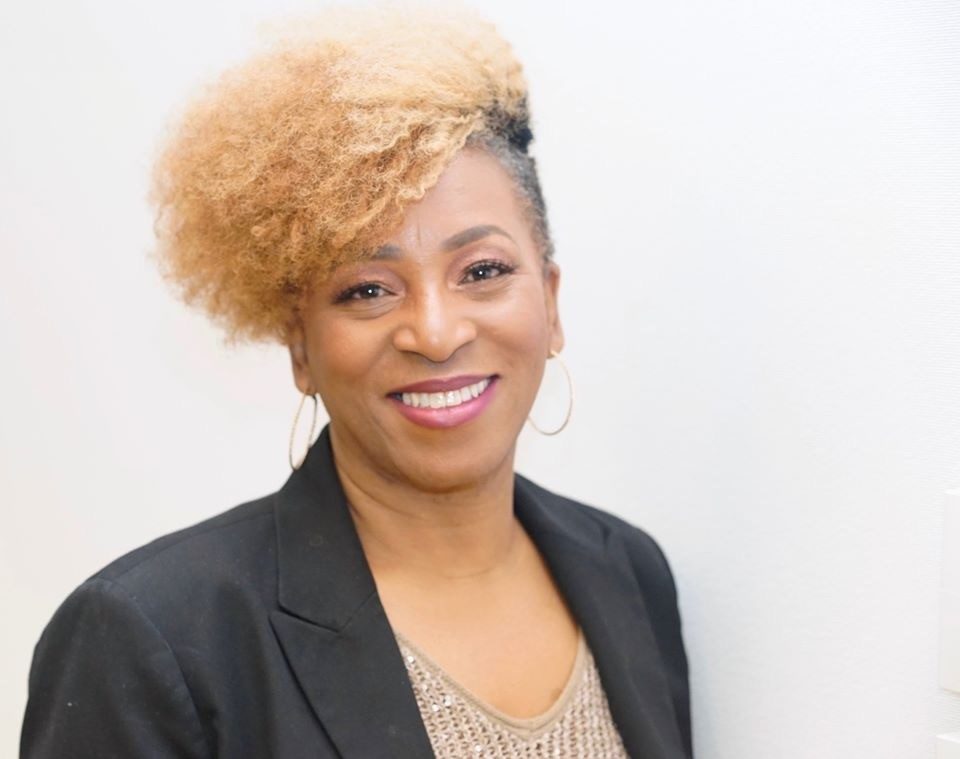 Michelle Turner is a New Haven based radio news announcer, writer, editor, and talk show host. Currently, she hosts the podcast "The Collective." She holds an undergraduate degree from North Carolina A&T State University and a Master's in journalism from Quinnipiac.