About Us
What We're Cooking: Celebratory Cocktails and Nibbles | The Prompter
LET'S ALL DRINK TO THEM!
Ellen Lange, Senior Administrative Assistant to the Acting Department, and party host extraordinaire, offers some celebratory cocktail recipes (with and without alcohol) as well as some savory nibbles.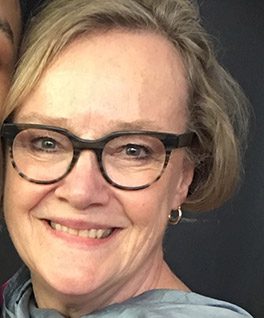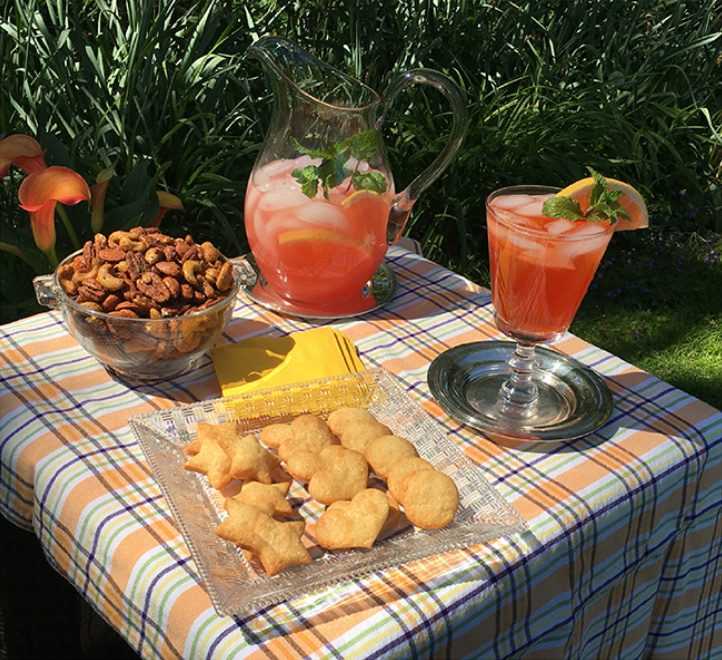 The Spring Spritz
Fill a wine glass with ice. Add 2 oz. Aperol, 2 oz. sparkling wine, and 1 oz. grapefruit juice. Top off with a splash of soda water and garnish with 1/2 slice of grapefruit and a sprig of mint!
Got a pitcher?: a bottle of bubbles, 1 1/2 cups juice, 1 cups sparkling water; grapefruit and mint for garnish.
Day Drinking?: Fill a nice glass with ice. Add 3 oz. each ruby red grapefruit juice and ginger beer (not ginger ale), stir gently. Garnish with grapefruit and mint for extra Zoom points.
Adapted from Epicurious, April 2016.
Cheese Crackers
8 tbsp. unsalted butter, softened
14 oz. sharp cheddar cheese, grated
2 oz. grated parmesan cheese
2 tsp. Worcestershire sauce
1/8 tsp. garlic powder
1/4 tsp. cayenne (start with this, add more if you like!)
1 tsp. salt (omit salt if using salted butter)
1/2 tsp. black pepper
2 cups all-purpose flour
2 – 4 tbsp. cold water (you may not use all the water)
Beat together softened butter and cheese with an electric mixer, scraping sides of the bowl several times, until combined. Add the Worcestershire sauce, garlic powder, cayenne, salt, and pepper; mix thoroughly.
Add the flour 1/4 cup at a time at slow speed. When the mix is crumbly, add water by tablespoon and continue mixing until a smooth dough forms. Wrap the dough in plastic wrap and chill for 30 minutes.
Preheat the oven to 350º and divide dough into three balls.
Roll one ball on a lightly floured surface until it is 1/8 inch thick.
Cut the dough into squares or use a small cookie cutter. Place the crackers close together on a parchment-lined baking sheet. Continue to roll and cut the dough, or re-wrap and freeze.
Bake crackers for 12 to 15 minutes, until golden brown. Remove pans from oven and allow crackers to cool to room temperature before serving.
Store the crackers in an airtight container for 6-10 days.
Roasted Nuts
Whip 2 egg whites until frothy, then mix in 4 cups of untoasted whole mixed nuts of your choice. With a slotted spoon, transfer nuts to another bowl (or drain in a colander), then stir in 1/4 cups of honey; 1 tbsp. sea salt; 1 tsp. ground cumin; 1/2 tsp. each cinnamon, red pepper flakes, cayenne pepper; 1/4 tsp. turmeric powder and ground ginger; and 1/8 tsp. ground cloves. Spread nuts on a parchment-covered baking sheet and roast at 250º for at least 45 minutes, turning nuts a couple of times, until golden brown. Bake another 5-10 minutes for toastier nuts. Sprinkle with salt and pepper, if desired, and allow to cool at least 10 minutes for maximum crunch.
Adapted from a recipe by Jenni of Whip & Wander.